The Church clock
The church clock was installed in October 1916 to celebrate the silver jubilee of the ministry of the Reverend R Thornber as Vicar of the parish. In 2013 the clock stopped working and, after a visit from Gillett and Johnson, the PCC decided that as a part of church repairs we would bring forward the restoration work to the clock face. As the church was covered in scaffolding for three months, it seemed sensible to send the clock face away for painting.

The newly painted clock face has now been restored to its original colour. The gold numerals on a blue background is striking but the reason for the choice of colour is believed to have its roots in the Bible, and the Old Testament.
King Henry VII ordered that clock faces on churches should be "blew with the signs upon them gilt". There is a suggestion that this colour scheme came from the book of Exodus and the description of the robes of Aaron, the first Jewish High Priest. In Exodus 39, as commanded to Moses, "they made the robe entirely out of blue cloth - the work of a weaver - and they made bells of pure gold and attached them around the hem...". This robe would have been worn in the Holiest part of the Temple In Jerusalem.
Now that external restoration work is complete, we have added lighting to the clock and church towers.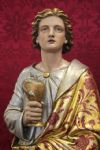 Contact
St John's Vicarage
Kilburn Lane
London
W10 4AA
020 8969 2615