HOW TO FIND US
St John's church is located on the Harrow Road, at the point where the northern, top-end of Ladbroke Grove (B450) meets the start of Kilburn Lane (see map below).
The church overlooks this busy junction which is a short walk from the Ladbroke Grove branch of J Sainsbury's.

A map showing the location of St John's and its parish can be found on the following link:
https://goo.gl/maps/mfS3MnLb5nHrRMHE9

HOW TO GET HERE

The nearest underground/railway station is at Kensal Green. The area is also served by a number of buses along Ladbroke Grove (52, 452 and 316) and the Harrow Road (18, 28 and 228)
If you are visiting on foot or by car, please note that Kilburn Lane is very long (continuing along the B413) and the church post code is a little misleading.

For Satnav (or similar device) type: '601 Harrow Road, London W10 4RA'. This will bring you to the church. (Alternatively, try typing: '2 Kilburn Lane')
The vicarage is is located to the left of the church (when facing the main church entrance) and has a blue-painted front door.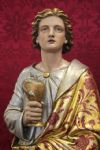 Contact
St John's Vicarage
Kilburn Lane
London
W10 4AA
020 8969 2615