Safeguarding
The contacts for safeguarding concerns are:
Erma Tavenier (Safeguarding Officer) Tel : 020 8961 3555
Anne Abel (Lay Pastoral Minister) Tel: 020 7625 9760
If any concerns need to be raised directly with the safeguarding team of the Diocese of London please telephone: 020 7932 1224 or email safeguarding@london.anglican.org.
Contact details for Childline and safeguarding contacts are displayed in the vestry in church in which children's activities are held. Additional information and policy statements are detailed on the notice board in church.
The parish telephone number and that of churchwardens and the administrator are detailed on the contacts page.
The PCC has due regard to guidance commended by the House of Bishops and contained in the Parish Safeguarding handbook, Promoting a Safer Church, published in 2018.
The diocesan and parish safeguarding policies may be found under links and information.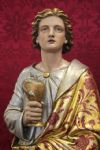 Contact
St John's Vicarage
Kilburn Lane
London
W10 4AA
020 8969 2615