NEWS & Events

Welcome to our news and events page! Information about events and activities will be posted here. Click the link further down the page to scroll through our events archive.
Events during 2021

Advent & Christmastide 2021

We were delighted that Bales College once again held their 2021 Christmas Celebrations at St John's and that the Ark Franklin Academy returned for their Nativities and performances during Advent. In addition the Honeypot Playgroup held their Christmas party in church.
14th November: Remembrance Sunday

The annual service of Remembrance took place on Sunday 14th November. This year marked the 100th Anniversary of The Royal British Legion and the collection from the service is being donated to the Legion.
Events during 2020
8th November: Remembrance Sunday

Remembrance: a time to Remember, Reflect and Give Thanks
During this 75th Anniversary year of the ending of war in Europe and Japan, Remembrance weekend was particularly poignant. The traditional Act of Remembrance took place in the Windrush Garden with local councillors laying wreaths at our sundial installation.

3rd November: Honeypot Playgroup Opening
The Kensal Green Community Playgroup has opened under a new name, the Honeypot Playgroup. There are two sessions (with a cleaning break) in order to accommodate numbers. Carers can sign up for sessions running from 09.30am to 10.30am and from 10.45am to 11.45am.
A new outdoor play area will be opening in the Spring, sponsored by the Allchurches Trust .
Although current guidance means that there will be some changes to routine, we will ensure that the stay-and-play remains as fun and familiar as ever.
27th September: Evensong
Choral Evensong was held to mark the Feast of St Michael and All Angels. The Evensong was followed by the blessing of two new bells at St John's. The church now has a ring of eight bells!
20th September: Harvest Festival
Harvest Festival was celebrated at the 11.00 am mass, with thanks to all those who gave items of food for distribution.
5th September: Lady Hospitallers
On 5th September St John's welcomed the Lady Hospitallers for a (socially distanced) meeting in the vicarage garden. It was an extremely enjoyable occasion and the Ladies said they would be back!
16th August: Opening of Windrush Garden!
St John's Windrush Garden was officially opened on 16th August (postponed from May) by Mrs Curline Hibbert MBE in the presence of Hon Alderman Jan Prendergast, representing The Right Worshipful The Lord Mayor of Westminster. We are grateful to all those who have supported this project and to those who have worked hard to create a beautiful garden for enjoyment by the local community.
2020 PICTORIAL REVIEW
2020 was a challenging year with the COVID-19 pandemic affecting all our lives. However, much was achieved at St John's during 2020, including the completion of work in the church grounds. All this - and much more - has been captured in pictures. Take a look at our pictorial review of 2020 by clicking the link below.
Events Archive - take a look at past events and activities here.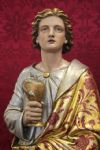 Contact
St John's Vicarage
Kilburn Lane
London
W10 4AA
020 8969 2615