NEWS & Events

Welcome to our news and events page! Information about events and activities will be posted here. Click the link below to scroll through our events archive.
Events during 2020
8th November: Remembrance Sunday

Remembrance: a time to Remember, Reflect and Give Thanks
During this 75th Anniversary year of the ending of war in Europe and Japan, Remembrance weekend was particularly poignant. The traditional Act of Remembrance took place in the Windrush Garden with local councillors laying wreaths at our sundial installation.

3rd November: Honeypot Playgroup Opening
The Kensal Green Community Playgroup has opened under a new name, the Honeypot Playgroup. There are two sessions (with a cleaning break) in order to accommodate numbers. Carers can sign up for sessions running from 09.30am to 10.30am and from 10.45am to 11.45am.
A new outdoor play area will be opening in the Spring, sponsored by the Allchurches Trust .
Although current guidance means that there will be some changes to routine, we will ensure that the stay-and-play remains as fun and familiar as ever.
27th September: Evensong
Choral Evensong was held to mark the Feast of St Michael and All Angels. The Evensong was followed by the blessing of two new bells at St John's. The church now has a ring of eight bells!
20th September: Harvest Festival
Harvest Festival was celebrated at the 11.00 am mass, with thanks to all those who gave items of food for distribution.
5th September: Lady Hospitallers
On 5th September St John's welcomed the Lady Hospitallers for a (socially distanced) meeting in the vicarage garden. It was an extremely enjoyable occasion and the Ladies said they would be back!
16th August: Opening of Windrush Garden!
St John's Windrush Garden was officially opened on 16th August (postponed from May) by Mrs Curline Hibbert MBE in the presence of Hon Alderman Jan Prendergast, representing The Right Worshipful The Lord Mayor of Westminster. We are grateful to all those who have supported this project and to those who have worked hard to create a beautiful garden for enjoyment by the local community.
Our thanks to everyone who supported us during 2019 when we celebrated St John's 175th Anniversary..........

6th & 7th December: Bells Blessing & Pageant!
On 6th December St John's bells were blessed by the Bishop of Fulham during a ceremony which has its roots dating back to the 7th century. The following day a Children's Celebration took place in church which included an interactive play about bells and featured the arrival of St Nicholas.
The bells will be rung for the first time on Christmas Day.
The Bells are Born!: 19th September
A small group from St John's visited the Loughborough Foundry on 19th September to witness the first three of six new bells for St John's being cast. It was a fascinating day which included a presentation on the history of the foundry and a tour of the site. It is planned that the bells will arrive in time for Christmas with a blessing by the Bishop of Fulham on 6th December. The project is being largely funded by a generous donation from Tony Fernandes, the owner of QPR football club.
Bishop Sarah Visits St John's: 8th September
Bishop Sarah was welcomed to St John's on 8th September for a special Evensong as part of this year's 175th anniversary celebrations. Guests included the Right Worshipful Lord Mayor of Westminster, the Representative Deputy Lieutenant for the London Borough of the City of Westminster and the Worshipful Major of Brent.
Prior to the service, the Silver Mace of the old county of Middlesex (on loan from Harrow Council) was placed before the High Altar.
After the service Bishop Sarah saw the new church decorative scheme for Our Lady of Walsingham which was blessed earlier by the Archdeacon of London, during the morning 11.00am service.
(Photos by Rodycloud)
Summer Fete: 20th July
Our thanks to everyone who helped with this year's Summer Fete on 20th July, including the very welcome refreshments. The weather was kind and fundraising receipts from the raffle and stalls totaled over £1000! Congratulations to those who won the splendid raffle prizes and a big thank you to those who donated prizes and stall items.
Tony Fernandes Visits St John's: 29 June
Tony Fernandes, owner of QPR, visited during St John's Open Day on 29th June. The visit followed Mr Fernandes' generous donation of £35,000 towards the bell fund. The church is now preparing to receive the bells in December so that that they will be in place for Christmas! (Photo by Rodycloud)
Confirmations: 26th May
We were delighted to welcome the Bishop of Fulham for the Mass of Confirmation on Sunday 26th May. Numbers confirmed on the day were the most since 1976 - that was over 40 years ago!
The Bishop kindly agreed to pose for the camera with our Churchwardens, Pastoral Lay Minister and other members of the Parochial Church Council (PCC).
George & The Dragon: 26th & 27th April
On the 26th & 27th April local children were treated to a performance of George & The Dragon. The show took place inside the church and outside on the forecourt lawn. The youngsters all joined in, making their own shields and helping to defeat the Dragon!
Easter Vestry & APCM: 25th March
Our thanks to everyone who attended the Easter Vestry and Annual Parochial Church Meeting. Congratulations to Nigel Clark and Michael Tavenier who were elected Churchwardens for a further year. We were also pleased to welcome three new PCC members: Steve Emeh, Frances Ikemefuna and Carol Smith. Rupert Gather has now stood down and we are grateful for all he has contributed during his time on the PCC. A full list of members and other appointments can be seen here.
2019 New Years Honours: Award

The Lay Pastoral Minister at St John's, Anne Abel, was awarded the British Empire Medal by Her Majesty The Queen in the New Year's Birthday Honours. Fr David said he was "thrilled" by Anne's honour. "Anne has worked for many years for three organisations dedicated to St John: St John's Ambulance, the St John's Guild for the Blind and St John's church. At the church she is Pastoral Assistant and served for nearly thirty years as Churchwarden. Her latest role is helping lead our new playgroup. This is a richly deserved honour and we are all so proud of her".
175th Anniversary Concert

Our Anniversary Concert, celebrating 175 years of church life at St John's, took place on Saturday 26th January. The Vaska Quartet provided a programme which was designed to appeal to a family audience. Read more on our CONCERTS page.
ll so proud of her".
Regular Features
Honeypot Playgroup

The Honeypot stay & play for the under 5s - meets at St John's church on Tuesday mornings.

Activity Afternoons & Junior Church



Children's activity afternoons take place on Saturdays during holidays while Junior Church (Sunday School) is held at 11.00 on Sundays.
If you are new to St John's and would like your child to attend Junior Church, please speak to Father David.
Events Archive - take a look at past events and activities here.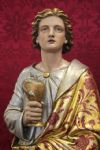 Contact
St John's Vicarage
Kilburn Lane
London
W10 4AA
020 8969 2615