Opening Times and Records
Visiting St John's
We welcome visitors to St John's, either to join us for one of our services or simply to look around and enjoy a moment of peace and prayer. Here are details of our opening times, while guidance on accessing Parish Records is included at the bottom of this page.

Church Opening Times and Access

The main church doors are open everyday, allowing visitors access to the porch and glass doors (through which the interior of the church can be seen). The glass doors are open on:
Tuesdays from 4.00pm to 7.00pm
Thursdays from 10.30am to 1.00pm
Saturdays from 10.00am to 2.00pm
Sundays from 9.00 to 11.00am and from 12.00 to 1.00pm
Regular services are held on Tuesdays at 6.00pm, on Thursdays at 10.00am and on Sundays at 8.30am and 11.00am. There are often seasonal services as well as funerals and baptisms. So, if you are making a special visit to see the church, it is advisable to telephone or e-mail first.
Please call the vicarage at any time during the day. If someone is available, access to the church is easily arranged.
Disabled Access
For services, a steel ramp is laid over the step leading through the west door. The ramp is stored in the porch and is easily put in place if a wheelchair user is accompanied during opening times.
If a visitor would like assistance with access to the church, please call in advance so that we can ensure that access is available through the vestry door which is step free.

Parish Records
We only hold records from 2010 onwards. Records prior to 2010 are held in the London Metropolitan Archives:
London Metropolitan Archives
40 Northampton Street
London EC1R 0HB
Tel 020 7332 3879
Fax 020 7833 9136
a
Occasional visitors have included a New Zealand rugby team who joined us for a morning service one summer!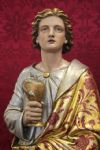 Contact
St John's Vicarage
Kilburn Lane
London
W10 4AA
020 8969 2615