Welcome to the Parish Church of Saint John the Evangelist, Kensal Green
COVID-19 (Coronavirus)
Following advice from the College of Bishops for the Diocese of London, St John's church is now closed for worship, celebrations and solitary prayer. We pray for all those affected by the Coronavirus at this difficult time.
For FUNERALS ONLY please contact in the usual way.

Keep us, good Lord, under the shadow of your mercy in this time of uncertainty and distress. Sustain and support the anxious and fearful, and lift up all who are brought low; that we may rejoice in your comfort knowing that nothing can separate us from your love in Christ Jesus our Lord. Amen
You are invited to join live-streamed worship at St James's Sussex Gardens . You can access St James's website here.

Updates on the Coronavirus situation can be found on the Public Health England website.

We are a parish in the Diocese of London, in the area that covers the cities of London and Westminster and in the Paddington Deanery. We are also a part of the family of churches who have a special relationship with the Bishop of Fulham. If you are looking for a friendly Anglican Church we hope you will come and join us at a service or one of our weekly events.
There's lots of information about our church on this website but if you need more please feel free to contact us, either by 'phone

(020 8969 2615) or by email here. You can also find us at a church near you
St John's Safeguarding Policy and 2019 Annual Report & Financial Statement, along with other useful links, can be found on the Links and Information page

Regular facilities at church include the Kensal Green Playgroup

We look forward to seeing you at St John's.
David Ackerman
Vicar
Our Privacy Notice can be read here.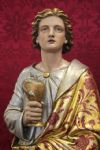 Contact
St John's Vicarage
Kilburn Lane
London
W10 4AA
020 8969 2615