Welcome to the Parish Church of Saint John the Evangelist, Kensal Green
WISHING YOU ALL A HAPPY NEW YEAR!
St John's is open for public worship, in accordance with government guidelines . Please only come if you feel it is safe for you to do so and observe social hygiene measures in place within the church.

Updates on the Coronavirus situation can be found on the UK Health Security Agency website.
HONEYPOT PLAYGROUP
The Honeypot Playgroup re-opened in September 2021 following the Summer break. The group meets on Tuesday mornings from 09.30am
Here you can see St John's from the air and explore hidden spaces within the church. We hope you enjoy this remarkable video!
We are a parish in the Diocese of London, in the area that covers the cities of London and Westminster and in the Paddington Deanery. We are also a part of the family of churches who have a special relationship with the Bishop of Fulham. If you are looking for a friendly Anglican Church we hope you will come and join us at a service or one of our weekly events.

There's lots of information about our church on this website but if you need more please feel free to contact us, either by 'phone
(020 8969 2615) or by email. You can also find us at a church near you

St John's Safeguarding Policy and 2020 Annual Report & Accounts, along with other useful links, can be found on the Links and Information page

We look forward to seeing you at St John's.
David Ackerman
Vicar
Our Privacy Notice can be read here.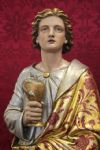 Contact
St John's Vicarage
Kilburn Lane
London
W10 4AA
020 8969 2615