Our Parish
Westminster
First to Sixth Avenues
Alperton Street
Barfett Street
Briar Walk
Droop Street
Enbrook Street
Galton Street
Harrow Road from the College Road turning to First Avenue (north side)
Kilburn Lane from the church to the Allington Road/Beetoven Street crossing
Ilbert Street
Ladbroke Grove (from the junction to the canal)
Lothrop Street
Marne Street
Nutbourne Street
Peach Road
Kilravock Street
Oliphant Street
Queen's Park Court
St John's Terrace
Sycamore Walk
Brent
Allington Road
Bayford Road
Berens Road
Buller Road
Compton Road
Halstow Road
Pember Road
Regent Street
Rhapsody Court
Wellington Road
Warfield Road
Wakeman Road
A parish boundary is not a barrier but an area around a parish church and those in the parish may have their children baptised, get married, and have their funeral service in the parish church, it is also an area of pastoral care.
Kensal Green was once part of Middlesex, a county named after the territory of the Middle Saxons. The fact that parts of the parish of St John's, Kensal Green are in Westminster and some in Brent reflect both the changes in local government, and the growth, of London.
In the late 19th century Kensal Green on the London side of Kilburn Lane became a part of the new county of London and Metropolitan Borough of Paddington. That part of the parish remaining in Middlesex was transferred to the Borough of Willesden in 1933.
In 1965 the ancient County of Middlesex was abolished and the Borough of Willesden became a part of the new Borough of Brent and the Borough of Paddington was absorbed into the new City of Westminster.
Dear Middlesex, dear vanished country friend,
Your neighbour, London, killed you in the end.
John Betjeman, Contrasts!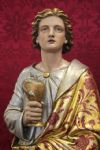 Contact
St John's Vicarage
Kilburn Lane
London
W10 4AA
020 8969 2615