Here you can find details of our regular and special services, along with details of our Seasonal Services.


SUNDAY MASSES
8.30am and 11.00am
WEEKDAY MASSES
Tuesday 6.00pm
Thursday 10.00am (followed by the Rosary)
Once a month a Healing Mass is celebrated and a Requiem Mass is celebrated for those on the month's chantry list.
Other seasonal services as advertised
For Baptism and wedding inquiries please contact Fr David.
SEASONAL SERVICES

Details of Seasonal Services will be posted here when details are available.

ST JOHN'S GUILD - Anglicans Supporting the Blind
T
he Guild now meets every second Saturday of the month at 3.00pm for the Guild Office and afternoon tea. (Meeting times have been changed from every second Sunday of the month.) For more information about the Guild, please visit www.stjohnsguild.org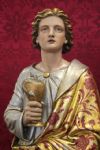 Contact
St John's Vicarage
Kilburn Lane
London
W10 4AA
020 8969 2615