NEWS & Events

Forthcoming Events
Events and activities are posted here as soon as details are available. Do take a look at our events archive by clicking the link on the side panel (or at the bottom of this page).

The Big Toddle at St John's
Sunday 25th June at 2.00pm

The Big Toddle sponsored walk for 'little people', raising money for Barnardo's, will be held in the Vicarage garden from 2.00pm - followed by a 'Tea Party & Play' event at 2.30pm. Download a poster
here
and tell your friends and neighbours. For further information e-mail
St John's events
.
So far in 2017............

Mark's Gospel Live!
'Mark's Gospel Live' was performed by priest and actor Rev Joseph Morris on 17th May at St John's. It was an inspirational and powerful performance of St Mark's gospel which had the audience 'spellbound'. Rev Joseph has delivered his performance of 'Mark's Gospel Live' to high acclaim in the UK, Canada and the US.
2017 Easter Vestry & APCM

This year's Easter Vestry and APCM was held on 12th April. Nigel Clark and Michael Tavenier continue as Churchwardens while Joanne Okello decided not to stand for re-nomination to the PCC. Jo was thanked for her time on the PCC and we are delighted that she has agreed to continue her appointment as Children's Champion. We welcome Natelle Peters as a new member.

After two terms (six years) Nigel Snuggs has stood down as Diocesan Synod Representative and has now been elected to the PCC. Yema Barlay has agreed to become the new Representative, working alongside Maria Heijenga. Full PCC membership and appointments can be found here.

All Sing! Community Choir & Workshop

The Harrow Road All Sing! Community Choir returned to St John's on 1st April. In addition to performing, the Choir held a workshop for the membership - and for those interested in joining. The afternoon was extremely well attended and it was great fun!

Car Boot Sales


St John's Car Boot Sales take place on the church forecourt lawn on Sundays from 2pm - weather permitting! For further information (and if you are interested in running a table) please contact 07459 461192.

Activity Afternoons & Junior Church


Children's activity afternoons take place on Saturdays during holidays while Junior Church (Sunday School) is held at 11.00 on Sundays.
However
, there has been some disruption during church restoration work so please look out for any notices affecting arrangements.
If you are new to St John's and would like your child to attend Junior Church, please speak to Father David.



Events Archive - take a look at past events and activities here.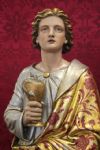 Contact
St John's Vicarage
Kilburn Lane
London
W10 4AA
020 8969 2615