NEWS & Events

Forthcoming Events
Events and activities are posted here as soon as details are available. Do take a look at our events archive by clicking the link on the side panel (or at the bottom of this page).
Regular Features

Kensal Green Playgroup

The Kensal Green Playgroup - stay & play for the under 5s - meets at St John's church on Tuesdays at 10.30am

Car Boot Sales


St John's Car Boot Sales take place on the church forecourt on Sundays at 2pm from May through to October - weather permitting! For further information (and if you are interested in running a table) please contact 07459 461192.

Activity Afternoons & Junior Church


Children's activity afternoons take place on Saturdays during holidays while Junior Church (Sunday School) is held at 11.00 on Sundays.
If you are new to St John's and would like your child to attend Junior Church, please speak to Father David.
During 2017............

St John's 2017 Carol Service
Our thanks to everyone who attended the Carol Service on 22nd December and helped to raise funds for The Children's Society and Embrace the Middle East. It was the perfect way to start the festive season with carol singing and readings.
Carol Concert for 'Real Action'
The All Sing! Harrow Road Community Choir returned to St John's with a concert in aid of the charity REAL ACTION ; supporting their work with the survivors of the Grenfell Tower fire. The event was attended by the Right Worshipful Lord Mayor of Westminster, Councillor Ian Adams.

A Talk on 'Servant Leadership'
Tim Hastie-Smith, the Director of Scripture Union, gave a talk on Servant Leadership on Wednesday 29th November. Many thanks to those who turned out in the cold weather to support this event.

Advent Sunday
We were pleased to welcome the Rt Revd Dr Stephen Platten, Chaplain to St Martin-within-Ludgate and formerly Bishop of Wakefield, on Advent Sunday (3rd December) to celebrate and preach.
All Souls' Day
Following the All Souls' Day mass on 2nd November, a small group visit to the graves of Henry Edward Kendall Jnr and William Harrison Ainsworth in Kensal Green Cemetery. (Kendall was the architect who designed St John's Church while Ainsworth was one of our first Churchwardens. It was pleasing to see that Edward Kendall's grave had recently been restored.
Harvest Festival & Reception
Harvest Festival at St John's was celebrated at Sunday mass on 24th September. The festival was preceded by a well-attended Harvest Cheese and Wine Reception on Friday 22nd September!
St John's Open Day
St John's Open Day was held on 15th July and included a morning sale of gifts and cakes, a raffle in the afternoon and an evening reception in the vicarage garden. This day also marked the launch of our new Church Guide. Copies can be bought in church for £2.50
Parish Outing to Harmondsworth


On 9th July a large group from St John's visited Harmondsworth, one of the villages potentially under threat from the building of a third runway at Heathrow Airport. Father David gave the sermon at the beautiful church of St Mary the Virgin (parts of which date back to the 12th century) before everyone was invited to tour the famous 15th century Great Barn.
The Big Toddle
Barnardo's Big Toddle event at St John's on Sunday 25th June 2017 was a tremendous success. Nearly £300 was raised on the day for Barnardo's while one of our younger parishoners raised another £140 through her 'justgiving' page. Congratulations and thanks to those who helped with organising the event - and to all the 'little ones' who took part!

Pentecost Celebrations
St John's new kitchen servery was officially opened following this year's Pentecost service and the ribbon was cut by our very own celebrity, Curline Hibbert MBE. (2017 also marks the centenary of the Most Honourable Order of the British Empire.)
The visiting preacher Fr Neil Evans (Director of Ministry) kindly blessed the new kitchen.
Fulham Palace Visit
On 30th May a group from St John's visited Fulham Palace. The Palace has a fascinating history as well as beautiful grounds and gardens. This is definitely one of London's hidden treasures!

Mark's Gospel Live!


'Mark's Gospel Live' was performed by priest and actor Rev Joseph Morris on 17th May at St John's. It was an inspirational and powerful performance of St Mark's gospel which had the audience 'spellbound'. Rev Joseph has delivered his performance of 'Mark's Gospel Live' to high acclaim in the UK, Canada and the US.



2017 Easter Vestry & APCM

This year's Easter Vestry and APCM was held on 12th April. Nigel Clark and Michael Tavenier continue as Churchwardens while Joanne Okello decided not to stand for re-nomination to the PCC. Jo was thanked for her time on the PCC and we are delighted that she has agreed to continue her appointment as Children's Champion. We welcome Natelle Peters as a new member.

After two terms (six years) Nigel Snuggs has stood down as Diocesan Synod Representative and has now been elected to the PCC. Yema Barlay has agreed to become the new Representative, working alongside Maria Heijenga. Full PCC membership and appointments can be found here.

All Sing! Community Choir & Workshop

The Harrow Road All Sing! Community Choir returned to St John's on 1st April. In addition to performing, the Choir held a workshop for the membership - and for those interested in joining. The afternoon was extremely well attended and it was great fun!

Events Archive - take a look at past events and activities here.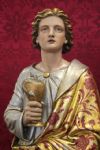 Contact
St John's Vicarage
Kilburn Lane
London
W10 4AA
020 8969 2615