NEWS & Events

Forthcoming Events
Events and activities are posted here as soon as details are available. Do take a look at our events archive by clicking the link on the side panel (or at the bottom of this page).
Parish Outing to Brighton
This year's Parish Outing will be a day trip to Brighton on Saturday 11th August. The coach will leave St John's at 8.15am sharp! Booking forms are available in church (adults £10 and children free). Children must be accompanied by a parent/carer.
So far in 2018............

Royal Wedding Party!

While millions worldwide watched the marriage of Meghan Markle and Prince Harry on 19th May 2018, here at St John's we held our own celebrations to mark the special day. Festivities included a bouncy castle for the children, a buffet lunch in the vicarage garden and an evening BBQ and drinks.
Order of St George Award

On the 12th May 2018 Maurice, our organist, was presented with the Order of St George at Great St Mary Church in Cambridge. The ceremony was followed by lunch at Queen's College. The Order of St George is an international association that exists to promote and pursue the traditions of chivalry by supporting works of charity.
Easter Vestry and APCM

This year's Easter Vestry and APCM was held on 17th April 2018. Nigel Clark and Michael Tavenier continue as our Churchwardens while Maris Mathias has stood down. We welcome Rupert Gather who joined the PCC last October. Yema Barlay and Maria Heijenga continue as the Diocesan Synod Representatives. A full list of PCC members and appointments can be found here.

Regular Features

Kensal Green Playgroup

The Kensal Green Playgroup - stay & play for the under 5s - meets at St John's church on Tuesdays at 10.30am

Car Boot Sales


St John's Car Boot Sales take place on the church forecourt on Sundays at 2pm from May through to October - weather permitting! For further information (and if you are interested in running a table) please contact 07459 461192.

Activity Afternoons & Junior Church


Children's activity afternoons take place on Saturdays during holidays while Junior Church (Sunday School) is held at 11.00 on Sundays.
If you are new to St John's and would like your child to attend Junior Church, please speak to Father David.
Events Archive - take a look at past events and activities here.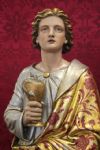 Contact
St John's Vicarage
Kilburn Lane
London
W10 4AA
020 8969 2615