Car Parking Permits

£600 per year, or
£150 for three months
These are our standard permit prices. However, prices are lower for Monday to Friday parking and it is possible to discuss shorter parking periods and ad hoc arrangements for contractors.

Please contact the church if you would like to apply for a permit and for information about current availability.
Tel: (020 8969 2615) or email here.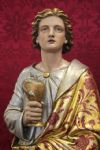 Contact
St John's Vicarage
Kilburn Lane
London
W10 4AA
020 8969 2615