Capital Vision 2020 and Mission
CAPITAL VISION 2020

Capital Vision 2020 is our collective vision for the next seven years. It was adopted by synod in March 2013 and launched in front of 2,000 people at St Paul's Cathedral in June 2013.

A vision is something that guides us and inspires us, and three words came out of many discussions that took place in planning the vision that will guide churches in London up until the year 2020: confident, compassionate and creative. All of us at St John's are asked to be part of this vision and there is a good website which gives all the information about it: www.london.anglican.org/mission/capital-vision-2020.
· Communicate the Gospel more effectively
· Equip and commission 100,000 ambassadors representing Jesus Christ in daily life
· Invest in leadership and increase the number of ordinands by 50%.
· Enable new initiatives to fight poverty, inequality and injustice in London and worldwide.
· Open up our church buildings to the wider community
· Strengthen links between schools and their local Christian community
· Double the number of young people involved in local Christian community
· Engage more closely with sport and the creative arts
· Each pray for at least seven people that we may share with them the story of our faith
A summer party in the Vicarage Garden....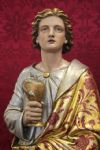 Contact
St John's Vicarage
Kilburn Lane
London
W10 4AA
020 8969 2615