YOUR CREDIT UNION

The first credit union that covers Kensal and Queen's Park is now open! The Bishop of Kensington has opened an account with the union as part of the Archbishop of Canterbury's bid to show people there are alternatives to payday lenders.
Your Credit Union which also covers Kensington & Chelsea, Westminster, Hammersmith & Fulham, and Queenstown in Wandsworth, operates pop up sessions in the Dalgarno Community Centre, Dalgarno Way, every Thursday between noon and 3pm, and at Earls Court Health and Wellbeing Centre, 2b Hogarth Road, every Friday, also between noon and 3pm.
Further information may be obtained at the pop up sessions or by visiting:
FIRST POP-UP EVENT AT ST JOHN'S - 4th December 2014

A pop-up event took place at St John's on 4th December, enabling people to learn more about Your Credit Union.
Having heard about our investment in the Credit Union, David Barclay (a member of the Archbishop's credit union task force) visited this first ever pop-up event at St John's.
We now hope that this will become a regular event.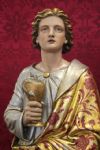 Contact
St John's Vicarage
Kilburn Lane
London
W10 4AA
020 8969 2615